Save the Date: Dec. 6th VoiceCatcher Poets at the Corkscrew Wine Bar's Plonk Reading Series, Portland, 7:00 p.m.!
***

Nov. 15th– five festive poets at Pegasus Gallery
Keli Osborn, Laura LeHew, Judith Edelstein, Merridawn Deckler, and Rachel Barton will read from the anthology, The Absence of Something Specified and other work. Come and  mingle, browse among the fine art, and listen to some of the finest poets of the northwest–this is really  a stellar collection! (If you'd rather stay out of the rain, you can buy the anthology online at Amazon.com.)
Pegasus Gallery is located at 341 SW 2nd St. Corvallis (Just past Old World Deli)
****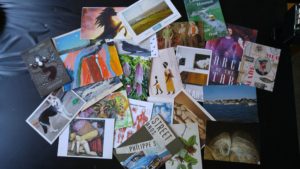 In celebration of the August Postcard Poetry Fest and the release of the anthology by the same name, APPF poets will read at Mother Foucault's Bookstore, Friday at 7:00 p.m., October 27th (523 SE Morrison St. in Portland). Come join us!
***
May, 2017:  Willawaw Journal Winter Issue, an online journal for poetry and art, is now Open for Submissions! 
Coming soon: the launch of a new online magazine for poetry and art–Willawaw Journal Summer Issue–edited by Rachel Barton and Jade Rosina McCutcheon. First issue due this summmer with Call for Submissions anticipated before the end of March.
***
Readers from The Absence of Something Specified (anthology) will join with Penelope Scambly Schott's White Dog Reading Series,  March 19, 2017 in Portland (Schott residence) from 3-5 PM.
SUPPORT YOUR LOCAL POETS!

Poetry Reading:  Saturday, November 19th, 3:00-4:00 p.m.
IMAGINE COFFEE (5460 Philomath Blvd., Corvallis
Be Herrera, Carol Hottle, Jade Rosina McCutcheon,
Linda Varsell Smith, Rachel Barton
Thanks to the delightful and attentive audience and to Leah for a great evening–
Stonehenge Studio Series:  Poetry Reading and Open Mic–Sunday, September 11, from 7:-9:00 p.m.  Rachel Barton and David Oates are the featured readers.  Open mic to follow–bring your poems! (3508 SW Corbett Avenue, Portland, 97239)
SUPPORT YOUR LOCAL POETS!
Poetry Reading
Free One-Time Event:  Saturday, June 4th, 3:00-4:00 PM
IMAGINE COFFEE (5460 Philomath Blvd., Corvallis)
Be Herrera, Karen Jones, Jade Rosina McCutcheon, Linda Varsell Smith, Rachel Barton
---
April 30th:  National Poetry Month Corvallis/Salem Poets' Gathering 2016.  Readings and Roundtable discussions all day–Rachel Barton reads with Tammy Robacker and others between 1:-2:30 p.m., Salem Public Library, Anderson Room B, Saturday. Come join us!
---
April 25-27:  Shotpouch Writing Retreat with fellow poet, Nancy Jamieson
---
SUPPORT YOUR LOCAL POETS!  Poetry Reading  Free Event: Saturday, March 19th 3:-4:00 Imagine Coffee — 5460 SW   Philomath Blvd., Corvallis, OR
Featuring:  Steve Blevans, Marion Whitney,Linda Smith, Carol Hottle, Jana Seeliger,  Nancy Jamieson, Tammy Robacker, and Rachel Barton
___________________________________________________________________

This photo of Crater Lake is courtesy of TripAdvisor
Last Call for poems to celebrate our parks–Due August 18th! In collaboration with OSU's annual Crater Lake and other Parks art exhibit, you are invited to submit a poem for the exhibition which starts on Aug. 24 with an opening reception on Aug. 28.  Authors from Willamette Writers Timberline Review will be reading from the first issue.  (Submit poem on one page to Rachel with contact info. and a short bio.)
Fall Term for the LBCC Poetry Workshop  begins Thursday, October 1st.  Eight 90 minute classes to be held in the Conference Room, main floor.  Hope to see you there!
   Calyx Submissions for the Lois Cranston Memorial prize–Due March 31st –Get them in the mailbox today!  And have you submitted to the new Willamette Writers Timberline Review?  There is still time!
My first short story in print, The Muse, is published in December's issue of The Last Line, Blue Cubicle Press!
Willamette Writers on the River Quarterly Reading–Dec. 15, 6:30-8:30–Open to all!
Brian Doyle will speak to us on Monday, Oct. 20, at the Willamette Writers on the River, corner of 9th and Monroe (6:30-8:30).
Doug Stone will read his poetry at the Chinese Gardens in Portland, Oct. 18 at 3:00 p.m.
See Ben Gorman on Learning How to Read like a Writer, Salem Chapter of the Willamette Writers, Oct. 8 at 6:30 p.m.  Location:  Macy's Mezzanine, downtown.
New Fall Offering:  Poetry Workshop at the Benton Center , Linn-Benton Community College, (Tues. evening, 7-9) Classes begin Sept. 30 in Corvallis,(ten weeks). See the LBCC course catalog to register (sis.linnbenton.edu), or email bcinfo@linnbenton.edu or even register over the phone (541-757-8944). The staff wants to make this easy for you!
Willamette Writers on the River Quarterly Reading:  Sept. 15–Open Mic–everyone welcome!
Willamette Writers Annual Conference:  August 1-3, downtown Portland at the Lloyd Doubletree .  See John Sibley Williams talk about The Business of Poetry!
Willamette Writers on the River Quarterly Reading:  June 16, Open Mic!  I shared poems from my new chapbook, This is the Light.
The LBCC Spring Poetry Workshop Reading and Exchange, June 5:  Jana Seeliger, Linda Varsell Smith, Sandy Lizut, Steve Blevans, and Vara Helvey, (with Rachel Barton).
---
Northwest Poets Concord writing workshop with Rachel Barton and Jerri Otto, Saturday, May 3rd, 9:00 a.m.
---
Writers on the River Spring Reading–Poems and Stories from the members, March 17, 2014–6:30 p.m.
---
LBCC Benton Center:  Poetry Workshop continues with spring term, beginning April 3, same time, same day, same place.  Check your catalogue!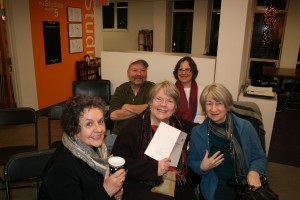 Elohi Gadugi Milepost5 Featured Readers:  Rachel Barton and Judith Arcana, Jan. 21, 2014. Denizen Gallery on NE 81st.  Open mic followed:  Edgewood Writers rocked the house! (photo–Sulima Malzin, Susan Bucharest, and Jerri Otto)
LBCC Benton Center:  Poetry Workshop--Rachel Barton is offering  the Poetry Workshop as a non-credit class at the Benton Center. The class will run from 1:-2:50, (BC-121),Thursdays, for ten weeks, beginning on January 9th.  Class size limited.  Check your Linn-Benton Community College catalogue  or email:  bcinfo@linnbenton.edu for more information. Register at the Benton Center, 757 NW Polk Ave., Corvallis.
Barton is an award-winning poet who re-entered the writing life through the Oregon Writing Project.  She offers the same framework of writing in a community of writers in her classes.  Come expand your poetry community. Generate new poems using a variety of strategies as prompts, and practice critique and revision within a community of peers.  Final project includes a chapbook exchange.
Oregon Poetry Association Fall Conference–Oct. 18-20 at Pacific University in Forest Grove
Willamette Writers Conference–August 1-4, Sheraton Inn at the PDX Airport–come celebrate with your writing community!
Writers on the River Poetry Workshop–Jump the High Dive into Poetry with Rachel, July 15, 9th and Monroe (Corvallis)
Dancing Oaks Nursery poetry retreat–June 22, 1-4–an afternoon of poetry in a magnificent garden, east of Monmouth.  Prompts provided.

---
Northwest Poets Concord in Newport on May 5th–workshop presentation on collaboration with the Sunnyside Writers (Steve Jones, Rachel Barton, Jerri Otto, and Ann Staley)
---
Oregon Poetry Association Spring Conference in Silverton, Saturday, April 13th–(look for me at the book tables and open mic)