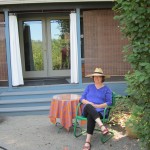 For one week, I kept my own company off the grid—no emails or net-surfing, just the blank page, scads of delicious vegetables, and the companionship of green outside the window.  I did wander under the canopy of oaks during my morning walks which strengthened me in the old way, as if I were still walking in the woods of my childhood.  One evening, I sat on the terrace with my hosts, Michael Hoeye and Martha Banyas, listened to their stories of the land and of their art and read to them a little from my work in progress.  The clarity of intention was visible in every nook of the gardens as well as in the beautifully maintained house, studio, and cottage.
As you can see from the photos, I lacked for nothing.  The inside of the cottage was pristine and cleanly appointed in the vocabulary of IKEA, a language and aesthetic that I find very soothing.  I could readily sit down to write without distraction.  The kitchen was fully equipped for the foodie that I am, though I restricted my cooking to roasted vegetables and the homemade soups I had retrieved from my freezer.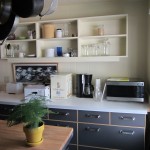 My daily work began with short pieces for the August Poetry Postcard Fest as a warm-up (more on this in a couple weeks!).  Then I began writing a story using memories of my Grandmother Lalia as a springboard.  I can only marvel at the confounding nature of memory and the level of detail with which I was able to recall/recreate a passage of my life forty years past.  This story is still leading me—I will be sure to report on its conclusion.
I have returned home deeply rested, with my reserves replenished,enough to greet the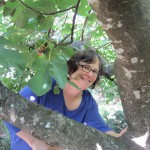 last weeks of summer with enthusiasm, though I may hover indoors away from the heat.  Have you ever seen such a long hot spell in a Corvallis summer?  Remarkable.  The roses are still loving it!